Planner
If you are actively involved in your church's day-to-day activities, you're probably going to like the MyChurchTool Calendar. It helps you view and organize your events while also being able to interact with your fellow brothers and sisters for better collaboration. Clicking on the Calendar button in the sidebar will take you to our calendar view.
Here, you can view events by month, week and day. You can filter events and see only the ones created by you, the ones you are involved in, the ones you haven't created or been involved in, or your draft events (we'll get back to drafts later).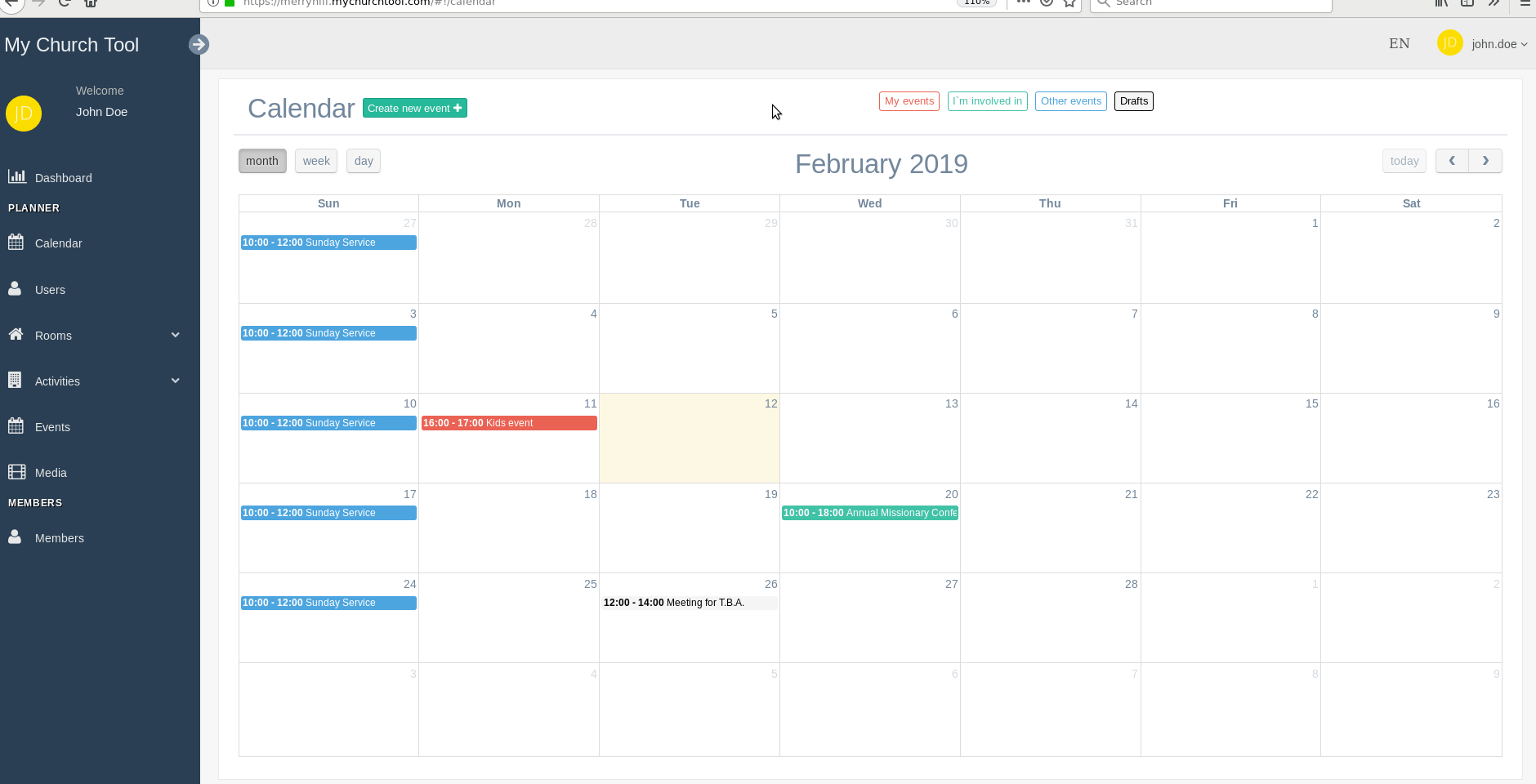 Clicking on an event will open a modal window where you can see the details about it. On the left side, you will see details about the event itself. On the right side, you will see the activities that will take place during the event, along with the people responsible for those activities.
We've talked about both events and activities so far, but what's the difference between them?
Events in MyChurchTool represent different types of gatherings taking place within your congregation (Sunday church, family conferences, annual barbeque, choir rehearsals, children's Bible school etc.)
Activities, on the other hand, are smaller "things" that can take place during an event (choir worship, band worship, sermon, prayer, guest greeting etc.). Put together and assigned to the right members, activities help build up to a successful church event.
As we have learned over time, each church has its own list of activities. They do not change often. In fact, they tend to be consistent over a long time period. That is why we recommend all churches that start using MyChurchTool to take some time and set up their regular activities. Once this is done, creating events and keeping them accurate will be easy. We try to help by having some predefined activities in the default MyChurchTool install, but you are free to remove them if they're not a part of your church's daily routine.
Adding activities can easily be done by going to the Activities view.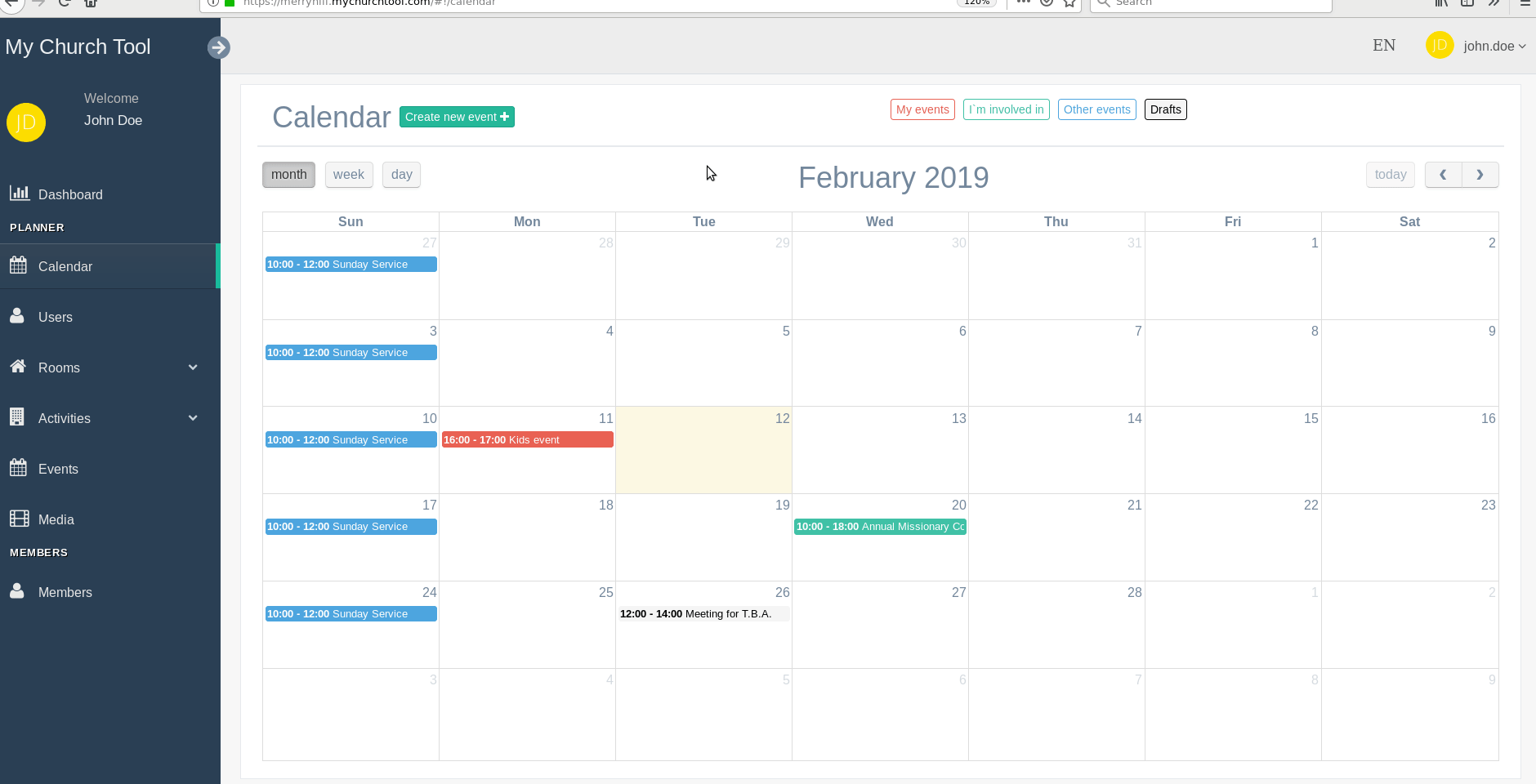 Similar to how you can define your church's activities to reflect its daily routines, MyChurchTool gives you a way to keep track of the rooms inside your church. But why would you want to do that?
Imagine that there will be a choir rehearsal and a marching band rehearsal taking place next Wednesday. Same time, same place. Both the choir conductor and the marching band conductor thought about using the same room because it's the only one fit for their needs … but they haven't talked to each other about it. Wednesday evening, they're both in the same room, trying to decide which one of them should compromise and move all their necessary musical equipment to another room. All that trouble simply because they didn't think someone else would use that room. That's the kind of problem we want to solve.
By keeping track of your church's rooms, you will be able to see which ones are fit for your needs, considering either the room capacity or other criteria. On top of that, if you book a room when you create an event, you will be able to see if that room is available or not.
Creating rooms can be done by going to the Rooms view.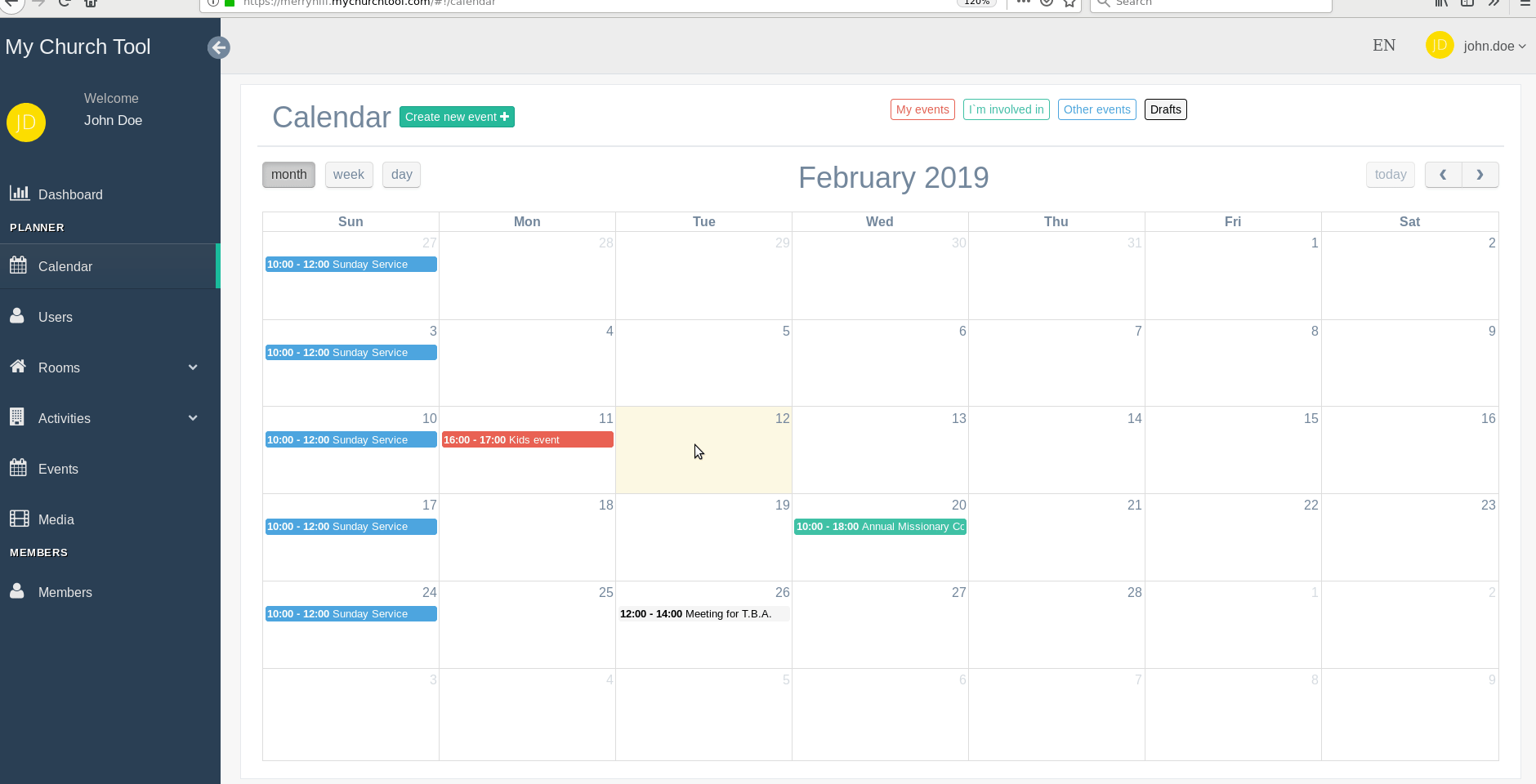 After having all your regular church activities defined in MyChurchTool, creating events will be a breeze. Just go to your calendar, pick your day and time of choice and fill in the event details.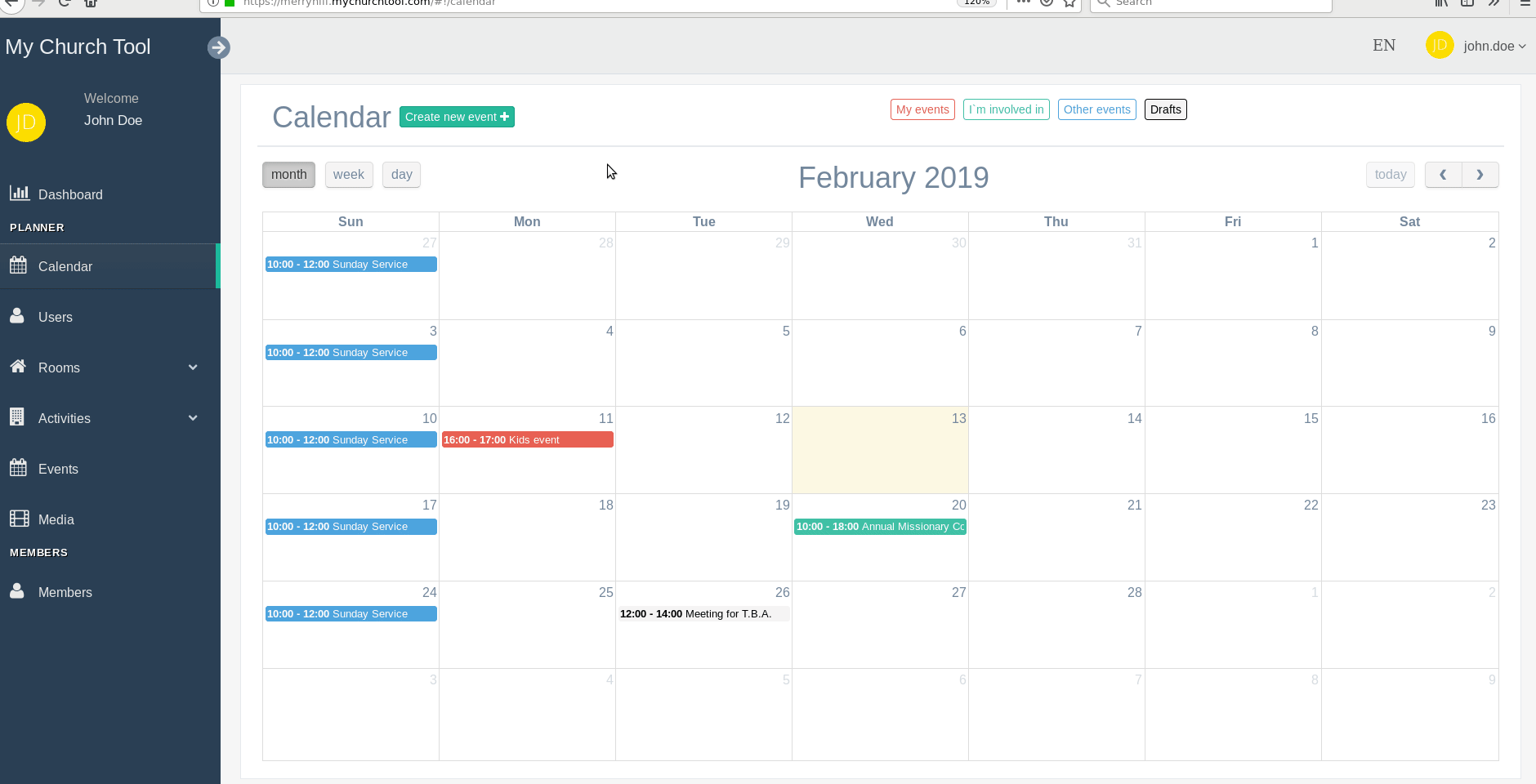 Activities can be added from the right side of the event modal window. After setting up all the above details, you can press Save event. All the users that have been involved in activities will be notified about their responsibilities with an email. They will also receive reminder emails regarding the activities they should prepare for 7 days before the event, 3 days before the event and 1 day before the event.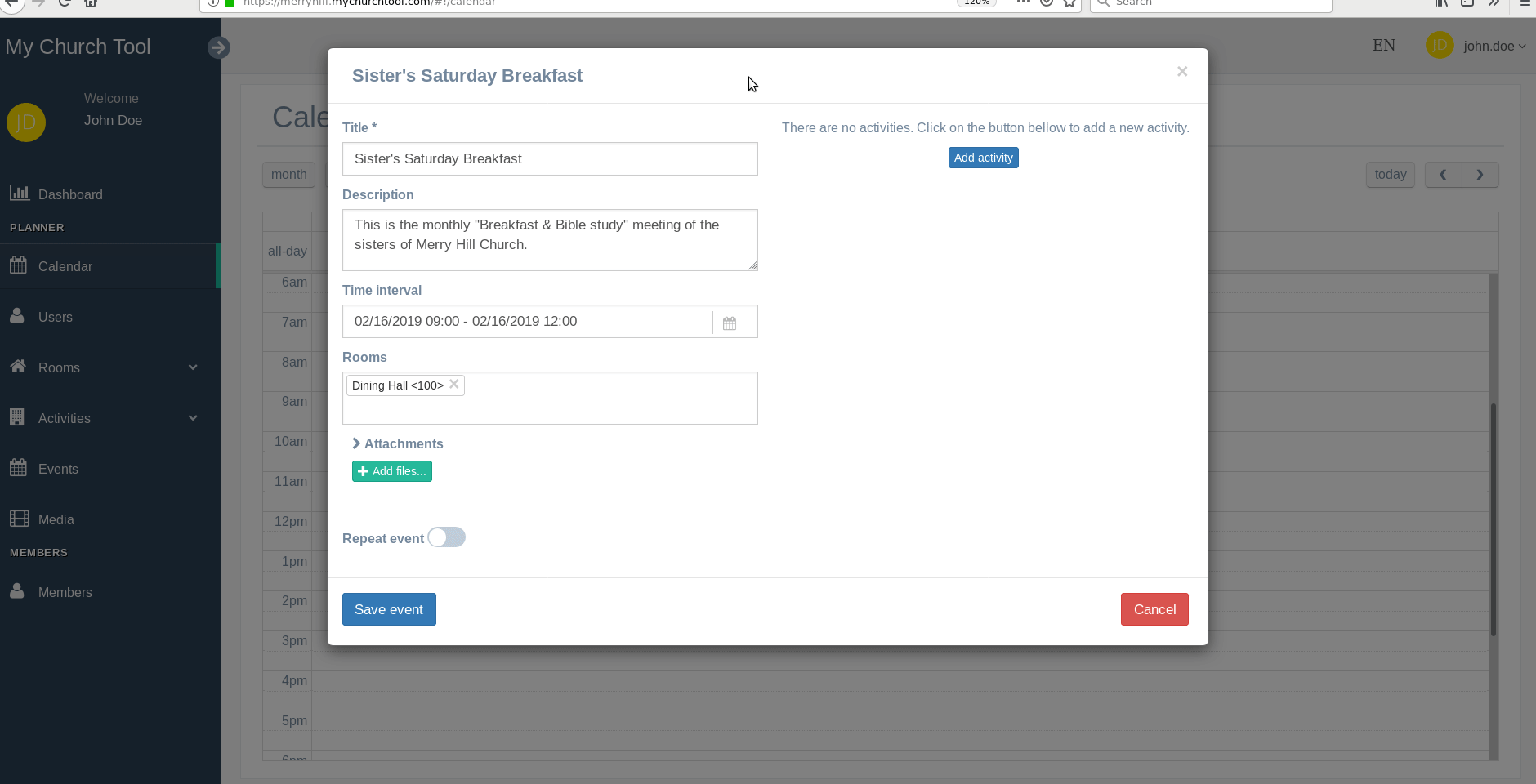 You can always come back and update information about an event. File sharing between users is easy if you do it in the Attachments section in our event modal window. Also, leaving a comment for someone else to see can be just as easy using our event Comments.
Let's say you remembered that you have a document that could be useful in preparing for this event. You can upload the document on our event and leave a comment for others to know why you left it there. Tagging people in comments is also possible. Similar to how you would do it on Facebook, you get the list of users you can tag in your comment by typing "@" (the at symbol). Every time you tag someone in a comment, they will be notified with an email.