Getting Started
If you're reading this, then you probably want to try MyChurchTool and see what benefits it could bring to your congregation, or you're part of a church that already uses our app and you want to get access so you can start using it. Either way, we're happy you're here and we can help you find what you need.
Try out MyChurchTool for the first time
If you're curious about MyChurchTool and you want to see it in action, then the next step would be to ask for a demo by submitting your email address here or to contact us through our contact form or by sending us an email at mychurchtool@gmail.com. We'll respond as soon as possible and we can discuss the details required for setting you up with an instance of our app, along with scheduling a demo.
Your church uses MyChurchTool and you need an account
If your church already uses MyChurchTool, then there most likely is (at least) one person designated with creating and managing user accounts. He or she is the one who you should ask for an account. If you can't find or contact that person, just drop us an email and we will help you out. Having a MyChurchTool account created for you means that you should receive your login details from the one who created it for you along with the address of your church's app instance. We strongly recommend that you change your password after your first login.
After receiving your login details, you can refer to the next section of our docs to find out how our app works.
So you've been granted access to the MyChurchTool app your church is using. You have received your login credentials, both username, and password.
Now what?
The third thing you must have received is the address of the MyChurchTool app. Every MyChurchTool app instance (or copy) lives at a given web address of the form CUSTOM_NAME.mychurchtool.com. For example, let's say the name of your church is Merry Hill Church. When signing up for our app, the ones who made this decision felt it would be nice and intuitive for the address to be https://merryhill.mychurchtool.com/.
In this case, https://merryhill.mychurchtool.com/ is the place where you should go and log in with your credentials. Open your favorite browser and do just that.
Your personal user profile is where you can go and change details about yourself. You can change your username, password, name, language preference, timezone and even upload a profile picture of yourself. To go to your user profile, you can either:
Click on your user avatar in the left sidebar …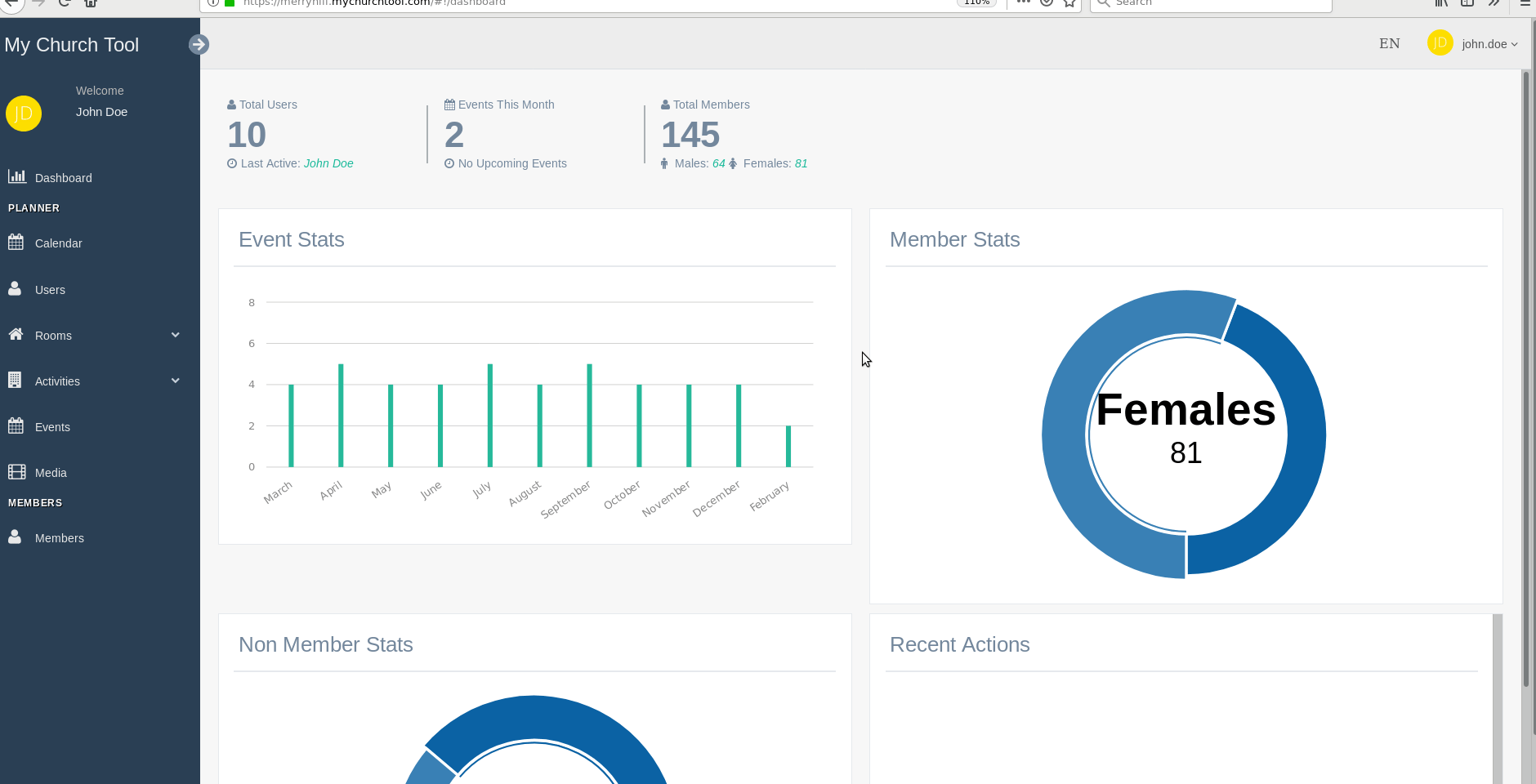 … or open up the upper right corner dropdown and choose User profile